Leaf Credo 50
Digital Back
Phase One 645DF+
Camera Body
110mm 2.8 Scheneider Phase One Lens
(an amazing portrait lens for this system)
YES, I am open to offers on the body, back or lens individually.
with…
digital back battery
camera battery
camera AA battery holder (an alternative to the other battery)
camera battery charger
front and rear caps for the lens and the body, as well as a cap for the digital back.
Note that this generation of Leaf backs are made by Phase One to their high standards, and compatible with the Phase One XF system. This is a great system on it's own, but also a full backup for a Phase One or Leaf shooter.
While not as feature heavy, this Leaf branded back is every bit as good as the Phase One 50MP version and produces files of the same format and quality.
Everything is working perfectly to the best of my knowledge, and the sensor and lens are clean. The body is in good shape, but you can see a cosmetic imperfection where some of the rubber has been glued back on. The lens and back both look great.
The back has just 22K exposures (I've put 500,000+ on my primary back), and no moving parts to wear out. The camera body has received minimal use from me, and the lens was refurbished with a new shutter/aperture mechanism, and then used as a backup lens (for indoor studio photography).
One of my favorite things about this system is the ability to use a range of lenses on this system with inexpensive adapter. This is particularly helpful for Hasselblad shooters with classic lenses (including the fast F lenses). You can choose between a shutter in the camera, or using a Phase One / Mamiya lens with a built in shutter (the 110mm does have a built in shutter for very fast strobe sync).
You are welcome to test out the system in Los Angeles and arrange for any inspection you would like, and to ask me any questions.
This is priced to sell quickly and reasonable offers will be considered with cash in hand. Here are some kits with the same back and body for comparison:
B&H for the same kit, but with just the basic 80mm:
Buy Mamiya Leaf Credo 50 Digital Back Kit with 645DF+ Medium Format DSLR and 80mm f/2.8 LS AF Lens featuring 50MP Credo Digital Back, 44 x 33mm CMOS Sensor, 3.2" 1.15m-Dot Touchscreen LCD, ISO 100-6400, 14-Stop Dynamic Range, 14-Bit Color Depth, Continuous Shooting Rate of 1.2 fps, 1/10,000 sec...
www.bhphotovideo.com
$17,499
This kit on eBay is also a good comparison: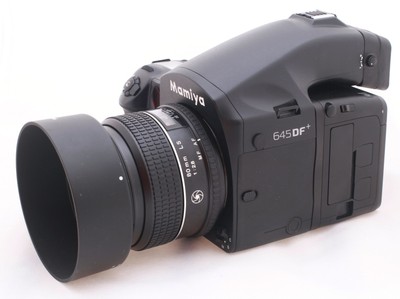 MAMIYA 645DF+. Mamiya LEAF CREDO 50. Mamiya / Phase One 645 Schneider Kreuznach 80mm f/2.8 LS AF.
$9,900
You may need to purchase…
A charger for the digital back battery (search "Kastar Battery AC Wall Charger for Phase One IQ Laser IQ IQ3 IQ4 Digital Back" on eBay at $39)
A mask for the viewfinder for $10 (
https://digitalback.com/products/phase-one-acetate-viewfinder-masks?variant=37186904621205
- choose P21 / P30 / P40 / IQ140 for Phase One/Mamiya)
CF cards and a reader.
Text or Call me at 213-364-9453
Email me at

[email protected]