The great tripod & head thread!
I'm a tripod guy and I guess most in MF are. I thought we could all chip in on what we have and write a short comment on how we feel about our tripods & heads.
I have just got a new tripod and that, ofcourse, triggered my eagerness to tell you about it.
My new 'do-it-all' is an Alpa branded Novoflex Triobalance and in the short time I have used it I like it a lot. A lot.
The ones I have in my stable now are these.
- - - Updated - - -
Gitzo G1500. Bought at the beginning of time. Big, heavy, bulky and ridiculously stable and rigid. I use it for the heaviest cams/outfits I have, for long exposures and for studio. Not really possible to walk around too much, close to the car when out and indoors is where it is used. Extends very high, haven't got a measurement, but I need a steps to reach teh cam if fully extended. Did I mention that it is stable……
Manfrotto 268.
I believe the biggest ever produced by Manfrotto. It weighs like a small car but can hold a heavy load. I bought this at the same time when I invested in a complete setup of Fuji GX680 III, at the time of its release. This ballhead could easily hold the huge Fuji in place and didn't even dip when locking. This is my studiohead still but have never taken it outdoors since I got the Linhof.
It really is so heavy and wide base that I can use it as a stand alone as tablesupport for the Sony with the Loxias.
- - - Updated - - -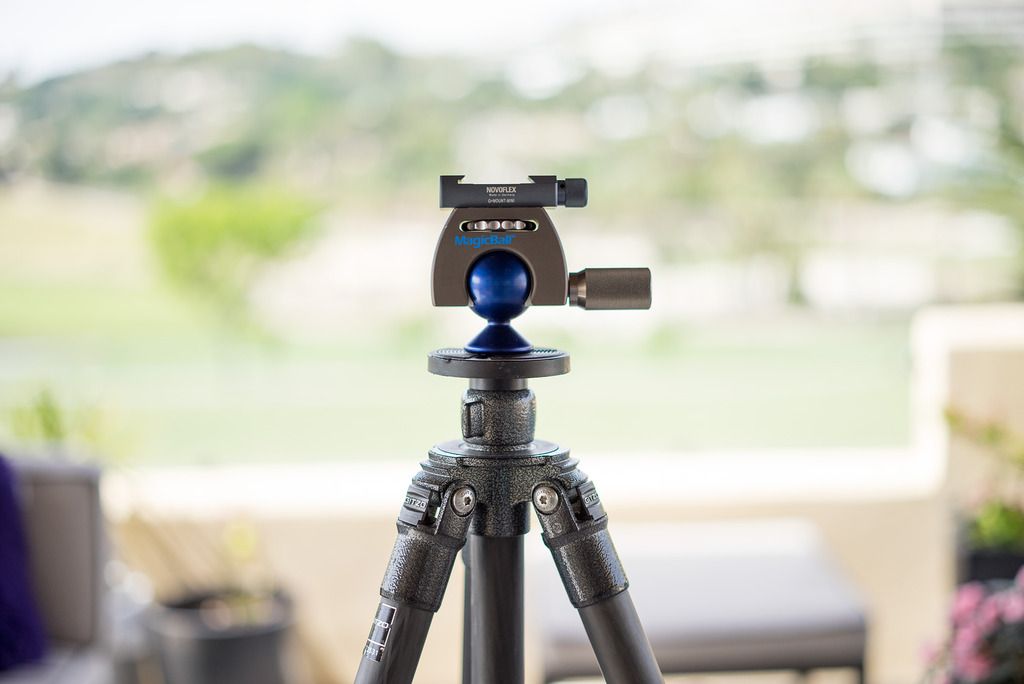 Gitzo Carbon fibre GT2531.
My hiking tripod. There's a lot to like with these legs. Light and sturdy and the locking mechanism is hard to beat. Very nice. Great combo with the tiny Magic ball, but it holds the Linhof 3D Micro nicely too.
Novoflex Mini Magicball. What a brilliant little tripodhead! Love this one. So easy to handle, smooth movement and locks down very securly. For the Sony it is a perfect match, but even with the Alpa TC/Helvetar 75/Credo 60 it holds it nicely and I do not hesitate to use this combo if minimum weight is required.
Now it also doubles as a tiny head for monopod use with the new tripodsystem Alpa/Novoflex.
- - - Updated - - -
Velbon Carbon fibre legs Carmagne 630.
Not bad at all. Lightweight and easy to handle. The least stable I have but in no windy conditions it will do the job just nicely. The legs feels nicer than the head that came with it.
I personally never use this one but have it as a 'quality-spare' for enthusiasts that come along on my workshops that either do not have a tripod at all or is of terrible quality.
Velbon PH-273QL
Well, nothing really that makes it special. Except its incredible light weight. It is featherlight at 390 gr. Believe it or not but even lighter than the tiny mini-magicball. Not very smooth action and overall less confidence in this one.
- - - Updated - - -
- - - Updated - - -
Linhof 3D Micro. My to go head and has served me fantasticly well. I know there are quite a few that are put off with the limited angled reach, but this has not been a problem for me. I extend the legs so the tripod is roughly level and tweak to perfection with the head. No probs. What I find bulky is the seperate 90 degree angle piece. This would have been nice if it was somehow incorporated in the main head.
The smallish knobs for the pano action is a little tough to stay put, you need to tighten a little more than you wish was needed. I know there is a new mechanism for this on the current model so I guess its not only me…
Apart from that, it suits me brilliant and has been a tremendous help in my architectural assignments. But not to forget the precision for keeping the horizon absolutely level in the field. If you have seen any of my landscapes, you see that I never compromise in this aspect and still I never, (maybe one in a hundred), tweak in post. I figure one less time throwing around the pixels is only for the good. Would be tough to part with this one.
A bonus now is that in combination with the new Alpa/Novoflex Triobalance head, the angle reach has increased dramatically. Even if I have managed very well without this extra reach, it never hurts with extended possibilities. Who knows, I might even go wild and crazy and compose with cam tilted….